Well, I run my bike kinda different. It's a Enigma Racing Frame I got
off ebay, It's quite light, I'm not so heavy and I don't grind so it
does it's job. I have other bikes, and other set-ups but this is
probably going to be my set-up for a while, since I'm finding it quite
comfortable

. The bike's around 22-24 lbs, not 100% sure... could be
lighter if I made it weaker...
History of bike - Had the frame since around December of last year,
used to ride a Redline MX20. I built the wheels myself, the front
wheel's got a unique spoke pattern to it, I'll try to describe it.. 36
spokes, 24 black + 12 red; it's a 3 over then 3 under pattern, creating
3 red sections and 3 black sections. The rear wheel's got a LHD
cassette hub cross-laced with 36 red spokes. I had to cut out the drop
outs to fit a 14 mm axle, stock size for the frame was 3/8 in.
I got some parts from ebay, some from danscomp, and some from random places like for example; the swap meet:).
oh... and I've got a rear LED light because I often ride during dawn
through streets, and last but not least, always got my GIRO FLAK helmet
that saves my head

, hey! it works! haha.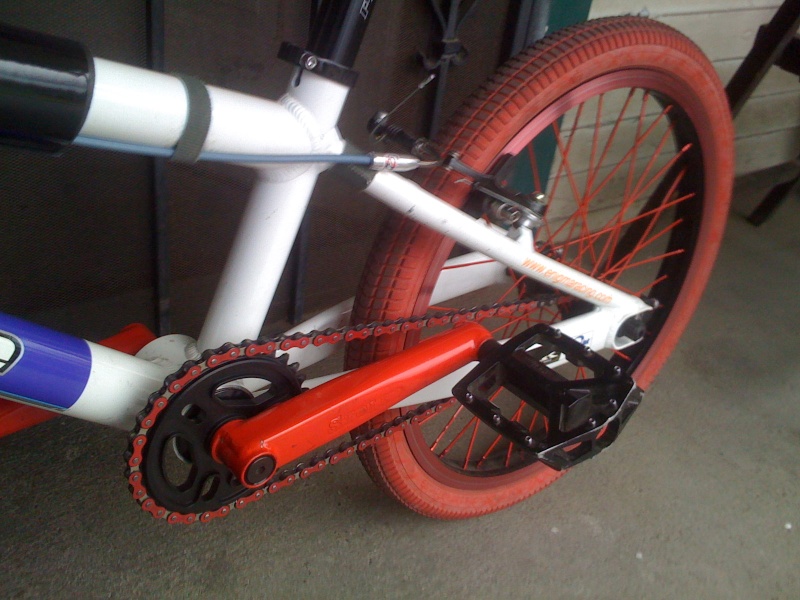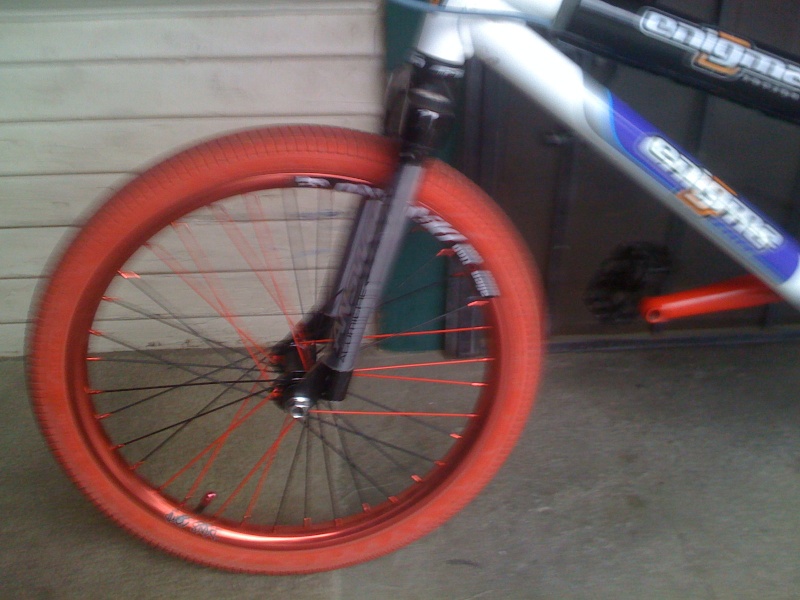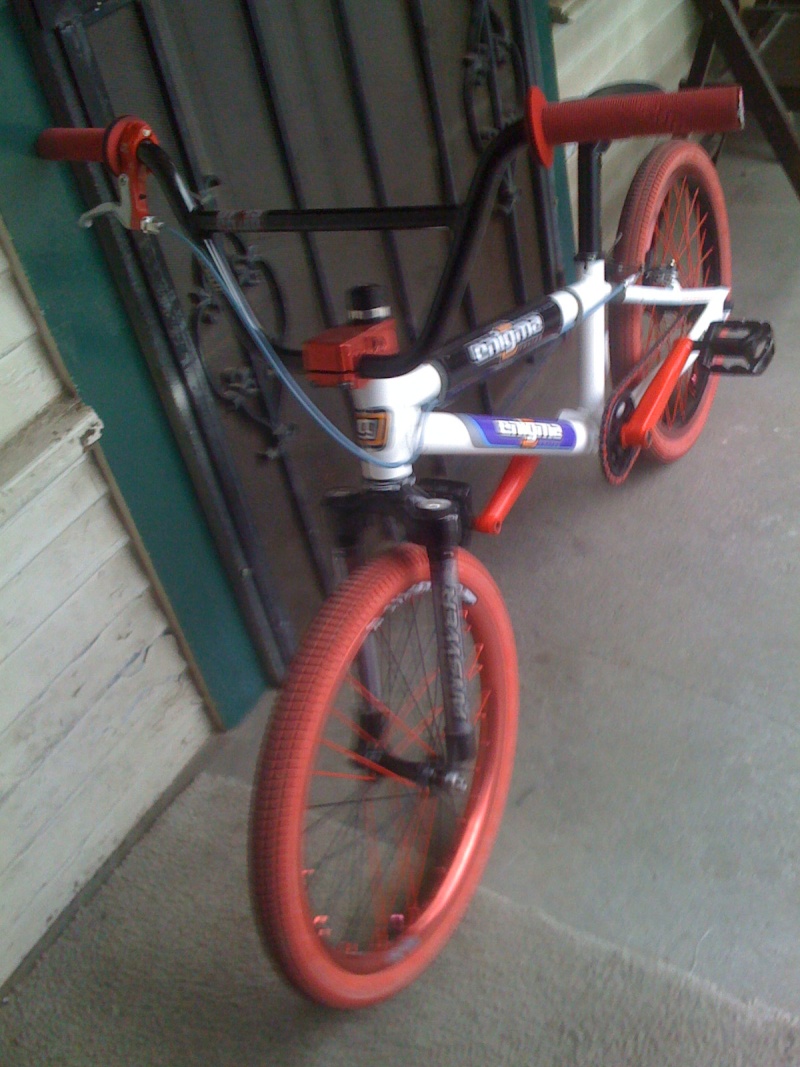 Specs -
Frame: Enigma Racing 21tt
Fork: Answer Aluminlite
Bars: Cupri ProAL
Stem: Supercross Racerhead 2 Pro Lt
Grips: Fit Mushroom + LizardSkin Doughnuts
Bar Ends: Stolen
Headset: FSA 36 degree
Seat: S&M Thin Seat
Seatpost: Promax 30.4mm
Seat Clamp: Fly
Brake Lever: Promax
Brake Cable: Odyssey Linear Slic
Brake Arms: Promax
Brake Pads: Odyssey
Crankset: Stolen Team Crank
Sprocket: Shadow Conspiracy Lighter 30t
Chain: Mechanik Full-Trac Chain
Pedals: Wellgo MG-4A Magnesium
BB set: Redline 19mm
Front Hub: Proverty sealed
Rear Hub: Odyssey Hazard LHD 10t
Front Spokes: 24 Black + 12 Red Primo
Rear Spokes: 36 Red Primo
Front and Rear Nipples: Red Alloy
Front Rim: Alienation Deviant 36h
Rear Rim: Alienation Runaway 36h
Front Tire: Primo V-Monster 1.75
Rear Tire: PRimo V-Monster 1.75
Chain Tensioner: Redline
My bike; My Pride and Joy.
*recently cut down seat post, lowered seat, and changed brake cable to black; not shown in pictures.